ANGEL 2018
Du 03/06/2018 au 07/06/2018
Domaine Saint Joseph - 38 allée Jean Paul II, 69 110 Sainte Foy lès Lyon
---
Accommodation
Domaine de Saint Joseph
38 allée Jean Paul II
69 110 Sainte Foy lès Lyon, France
The Saint Joseph Domaine is a 3 stars hotel, located nearby Lyon, with complete and made to measure accommodation and catering offers.
You will find huge inner and outside spaces, a full and recent renovation, a private closed 200 pax parking for vehicle and coaches.
http://www.domaine-lyon-saint-joseph.fr/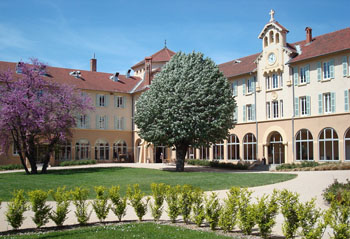 There are 66 rooms available in Domaine Saint Joseph, including 35 double rooms. We strongly recommend booking a room in Domaine Saint Joseph (simply by choosing the fees including the room).
Nearby hotels: If there is no room available anymore in Domaine Saint Joseph, you will have the possibility to book your room in the following hotel.
Hôtel Kyriad
35 Chemin de la Croix Pivort, 69110 Sainte-Foy-lès-Lyon (10 min by car from the congress venue)
Information: +33 4 78 59 32 23
Reservation: 0892 23 48 13
Fax: +33 4 78 59 16 46
@:
lyon.stefoy@kyriad.fr
https://www.kyriad.com/fr/hotels/kyriad-lyon-sud-sainte-foy